08.24.2022
A Truth the Climateers Simply Won't Tolerate
Feature Photo: Australian Wombat in the Snowy Mountains
The planet itself hasn't warmed for nearly eight years, the satellites say.
A Melbourne scientist friend, Geoff Sherrington, had crunched the latest data from the UAH satellites (below) and found Australia has not warmed for the past ten years – so much for the "climate emergency".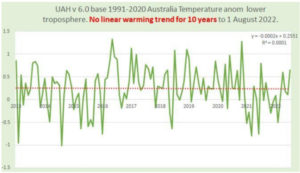 Canadian John Rustad, the British Columbia (BC) Liberals' shadow spokesman for forests (he's worked in forests 20 years) was fired from his party last week for tweeting a link to this fact.  He now sits on the cross-bench as an independent.
Authored by Tony Thomas and originally published at Spectator Australia on 24 August 2022 here.