07.14.2023
EPA: Few Stations Show Increase in Hot Days
By Gregory Wrightstone
As reported by EPA, only 19% of all weather stations report an increase in the number of hot days since 1948!
Below is an important chart that somehow slipped by EPA's "consensus" censorship squad. It is a map of all 1,066 weather stations across the United States. The change in the number of hot days for that station are ID'd as increasing (red), stayed the same (blank) or decreasing (blue).
A total of 863 stations, or 81%, reported either a decrease or no change in the number of hot days! Any guesses on how long this map will remain up on their site?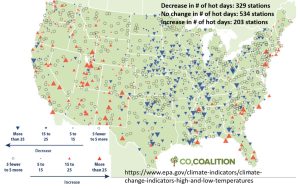 Gregory Wrightstone is a geologist; executive director of the CO2 Coalition, Arlington, VA; and author of Inconvenient Facts: The Science That Al Gore Doesn't Want You to Know.