03.13.2023
Dr. Lars Schernikau Featured on Veriten C.O.B. Tuesday Podcast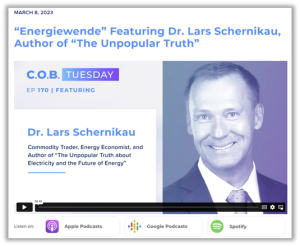 From Veriten C.O.B. Tuesday:
It's CERAWeek in Houston and we are excited to share another interesting global perspective on energy. Today we had the opportunity to visit with Dr. Lars Schernikau, economist, entrepreneur, commodity trader, and Author of "The Unpopular Truth about Electricity and the Future of Energy." He is also the author of "Economics of the International Coal Trade." Lars joined from Geneva and has twenty years of experience in commodities, particularly both basic energy and energy transition commodities / raw materials / minerals / etc. As you will hear, he's incredibly passionate about energy, energy economies, and energy and environmental policy. We covered a fascinating and broad range of topics.
Our discussion spanned Lars' vantage point from his experience as a commodities trader and exposure to the entire energy supply chain, coal markets and their importance to electricity, coal market development over the next five to ten years, and the inevitability of its appeal in Asia as affordable and reliable energy. Lars also shares fascinating data on global wind and solar irradiance, capacity issues that technology cannot fix, recent acknowledgement of looming Germany power capacity issues, challenges with long-range forecasting, the pressure on banking systems, and a few concepts Lars covers in The Unpopular Truth including full cost of electricity. We wrap with Lars' perspective on nuclear and what Lars thinks the energy world will look like in ten years. Lars was a fantastic guest and we greatly enjoyed our conversation.
"Energiewende" Featuring Dr. Lars Schernikau, Author of "The Unpopular Truth" – Veriten