09.6.2023
Oregon and Climate
By Gregory Wrightstone
I traveled to Oregon last week at the invitation of a CO2 Coalition supporter. Besides being completely off the grid at a lodge on the scenic Rogue River, I gave a presentation to about 50 people from southern Oregon after returning from the wilderness.
As you can imagine, the climate zealots are in full-on crisis mode in the Beaver State. For my talk, I examined Oregon-specific temperature data. The top image shows Annual Mean Temperature that reveals about a 1-degree Fahrenheit (F) increase since 1895 which is hardly a crisis.
Interestingly, maximum temperatures were basically flat going back 125 years, while the low temperature readings had increased by 2.0 degrees F. Increasing night-time low temperatures benefits agriculture by extending growing seasons.
Sleep well, Oregonians. There is no climate crisis.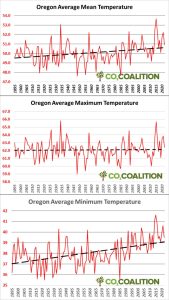 So, what will the citizens of Oregon get for going to net zero? Analysis using the MAGICC simulator indicates that, had the state attained zero emissions in 2010, the warming averted in 2050 and 2100 would be 0.0007 and 0.0018 degrees Fahrenheit, respectively.  These are theoretical effects that could not be measured and would make no difference.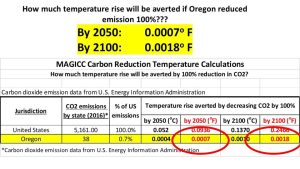 Gregory Wrightstone is a geologist; executive director of the CO2 Coalition, Arlington, VA; and author of Inconvenient Facts: The Science That Al Gore Doesn't Want You to Know.
Like the information you see here?